(X-posted from Thomas's Spanking Exploits, though a few days after the original)
No, this isn't about those cutesy stickers with the cartoon bunnies and snarky sayings, though I have been known to quote those from time to time. No, this is about my two favorite topics... spankings, and myself. As promised after the first Tampa Tanner's party, I continued my new tradition of being the mascot for our parties. For last month, I was dressed in green as the Lucky Leprechaun. This time, with April in full swing, I picked out another appropriate wardrobe for the event.
I had two choices that I was considering for my outfit. I could either go as the April Fool (which I nearly chose, and may return to in future April parties), or an Easter theme. So, I donned a pair of white pants and a blue pastel t-shirt as the basis of my outfit. I then added blue rabbit ears and a blue-trimmed Easter basket as accessories, even filling the basket with implements, including an Easter paddle-ball paddle. To finish the look, I took some of the furry fabric that I used for my shoot with Carissa Montgomery and sewed myself a fuzzy bunny tail. I was quite fetching, I think.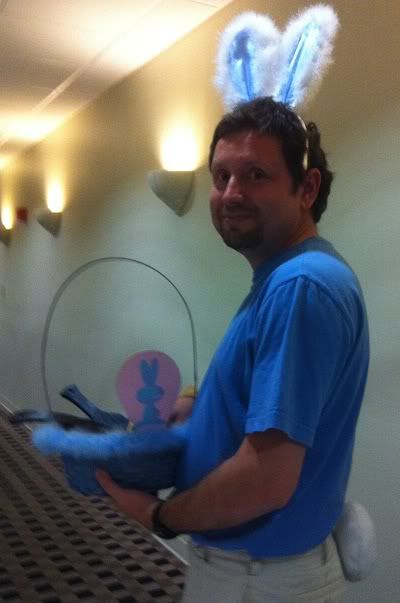 And, in keeping with the (new) Tampa Tanners tradition (as started by yours truly) of being spanked by the Tampa Tanners mascot (aka, me) at each party, several girls lined up for their chance to go across the bunny's knee. Suzy was the first to start it off, pulling Katia into the party room so the two of them could kick things off. Cookie followed shortly thereafter, and Shy also got her turn when she arrived fashionably late.
Cookie
Katia
Suzy
Shy
There were, of course, other girls who went over the bunny's knee, but these were the ones that I already know are comfortable with their pictures being shared. If more pictures become available, I'll add them to the post.